'Smart' socks that let parents track baby's health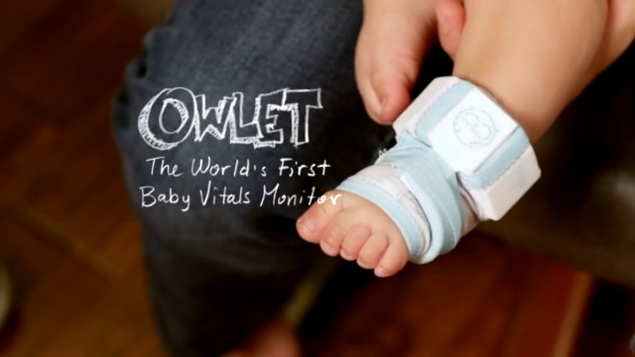 Now you can monitor your baby's heart rate and oxygen from your smartphone!
A US baby product company claims to have created the world's first 'smart sock' that lets parents monitor their baby's vital signs through a smartphone while he sleeps.
The sock transmits a child's heart rate, oxygen levels, skin temperature, sleep quality, and sleep position (rollover alerts) to a parent's smartphone or other Internet-based device, the company said.
"Every parent knows what it's like to lay in bed and stress about whether your child is breathing," said Jacob Colvin, founder of the company.
Currently there is nothing on the consumer market that can show parents their child's heart rate and oxygen levels.
"A hospital pulse oximeter costs parents around a thousand dollars. We are so excited that we can offer peace of mind to parents at a financially feasible price," said Kurt Workman Owlet Founder/CEO of Owlet Baby Care Home.
Workman first had the idea when caring for his twin cousins who were born prematurely.
However, the Owlet Vitals Monitor is not a medical device, neither should it be used for diagnostic purposes, the company said.
The monitor is also the first "wearable technology" in the infant space and is especially unique because it applies a safe, proven hospital technology in a new way: utilising multiple sensors, so it can grow with your child.
The monitor continues to work as long as it fits the child's foot, and it has been beta tested on infants up to two years old.
Heart rate and oxygen levels are found using an innovative four sensor pulse oximeter.
"Having four sensors allows for nine different reading combinations. Hospital pulse oximeters only allow for one combination of light and sensor, making Owlet's monitor a vast improvement over current technology. The new design allows the
Owlet monitor to automatically adjust data read for foot growth, movement, and various levels of ambient light," said Zack Bombsta, Chief Engineering Officer.
Additional features include Rollover Alerts, skin temperature, and sleep-quality tracking.
Hi guys If u like this post please leave a comment in comment box... comment box will top right of every post and bottom of every post. its useful for me give a better information.. if u want to give any suggestion in bottom of blog there is contact information option please leave a msgs with u r mail id sure i will get u.